Tulip Tea Additional information 2023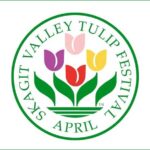 SKAGIT VALLEY TULIP FESTIVAL: INFORMATION
 FOR WASHINGTON REGENCY SOCIETY WILLOWBROOK MANOR TULIP AND TEA EVENT ATTENDEES
The WRS Tea at Willowbrook is almost here. Below you will see area maps, tulip field info and a list of all the local antique stores.
MAPS to help guide you around Skagit Valley's tulip fields and Sedro-Woolley's antique stores
More specific information about tulip fields, parking and ADDRESSES
A list of the antique stores in Sedro Woolley, Mt. Vernon, La Conner and Conway with ADDRESSES. THIS LIST INCLUDES THE ESTIMATED TIME FROM EACH LOCATION TO THE WILLOWBROOK MANOR.
We are expected for TEA at 3 pm sharp. Please ALLOW TIME to get to Willowbrook which is to the east of Sedro-Woolley!
The Willowbrook Manor address is: 27420 Minkler Rd, Sedro-Woolley, WA 98284
The TULIP FIELDS are located throughout the Skagit Valley but primarily around Mt. Vernon and LaConner. There are TWO PRIMARY FARMS which have large tulip fields and related exhibits and operations.
RoozenGaarde – 15867 Beaver Marsh Rd., Mount Vernon, WA 98273 – 31 minutes (16.7 miles from Willowbrook Manor)
Tulip Town – 15002 Bradshaw Rd., Mount Vernon, WA 98273 (360-424-8152) – 29 minutes (16.8 miles from Willowbrook Manor)
There are TWO other fields which might be a little less busy:
Garden Rosalyn – 16648 Jungquist Rd., Mount Vernon, WA 98273 (360-202-7982) – 31 miles (16.7 miles from Willowbrook Manor)
Tulip Valley Farms – 15245 Bradshaw Rd., Mount Vernon, WA 98273 – 29 minutes (17 miles from Willowbrook Manor)
There are charges for tickets to enter each of the tulip farms  It is strongly suggested that you pick only one or at most, two gardens if you want to see the exhibition gardens and take pictures in the fields. If you want lots of pictures only one farm is best. Here's more information about tickets for each farm https://tulipfestival.org/garden-ticketing/. Lovely vistas of fields full of tulips can be had by just driving around the countryside west of Mt Vernon without purchasing a ticket.
On nice spring weekend days the areas around each farm can be crowded with people and cars so leave extra time for finding parking. From the Tulip Festival web-site:
Parking is available at designated lots in the Tulip Field area. There is plenty of parking at Garden Rosalyn, Tulip Town, RoozenGaarde and Tulip Valley Farms and it is FREE. Look for the RoozenGaarde logo for other Official Parking areas. These lots are operated by Washington Bulb Company/RoozenGaarde. Fees are charged to park in official lots — that information will be posted at the fields; the ticket you receive from the parking attendant will also admit one person to RoozenGaarde on the same day. Private individuals sometimes operate their own lots — fees paid to private parties will not work for admission to any of the four gardens.
Roadside parking is limited due to shoulder conditions and traffic safety regulations. Law enforcement officers will issue tickets, so please avoid parking in no parking zones. Parking plans can sometimes be impacted because of the spring rains when they must close lots to keep  guests from getting vehicles stuck in the mud.
Here is a link to a DOWNLOADABLE MAP from the Skagit Valley Tulip Festival Organizers. It has the 4 major tulip farms located on it
Downloadable Map: https://tulipfestival.org/map/print/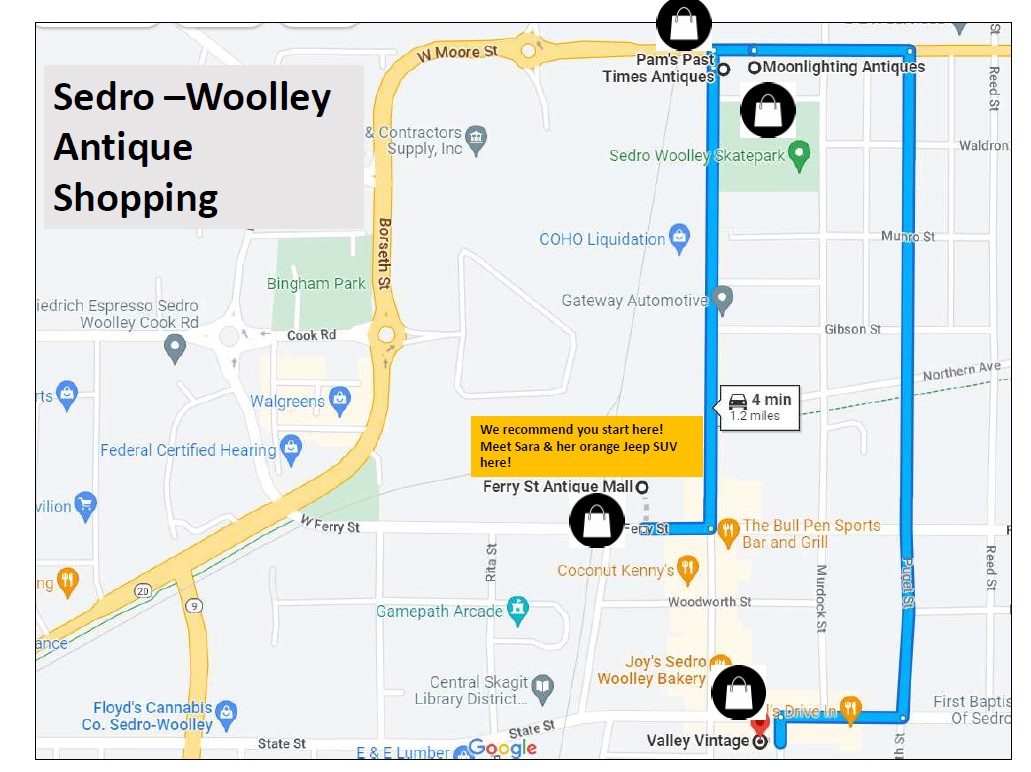 Spring 2023
Antique Stores, Malls, Vintage, and Collectibles Location in Skagit Valley
Note: This is not an inclusive list of all stores, just those near to the Willowbrook Manor and open on Saturday
STORE NAME AND ADDRESS
TOWN
CONTACT INFO
WEB ADDDRESS/FACEBOOK
ASSORTMENT/COMMENTS
HOURS
DISTANCE TO WILLOWBROOK
Ferry Street Antique Mall/Hub City Antiques & Collectibles

100 Ferry Street

Sedro Woolley
360-588-4315

360-202-0991

https://ferry-st-antique-mall.edan.io/

Facebook: Ferry St Antique Mall

Large assortment of goods in two parts. Some furniture, lots of decorative items, glass, china and home furnishings, toys, etc.
10 am-5 pm

Daily

3.5 miles (7 minutes)
Moonlighting Antiques & Collectibles

215 Moore Street

Sedro Woolley
360-855-1174
Next door to Pam's Past Time Antiquities
11am-5pm Sat

12-5 Sun

4.1 miles (7 minutes)
Pam's Past Time Antiques

201 Metcalf Street

Sedro Woolley
360-855-3367
Facebook: Pam's Past Time Antiques
Good jewelry assortment, lots of china,  glassware, linens, decorative items (large assortment), the old house is FULL.
11 am – 5 pm

Th-Sun

4.1 miles (7 minutes)
Valley Vintage Thrift Shop

225-B State St.

Sedro Woolley
360-941-6481
https://heyantiques.com/033909581/Valley_Vintage

Facebook

Vintage thrift shop. Some clothing, home décor, varied assortment, a nice vibe
11 am-6 pm

W-Sat

3.3 miles (6 minutes)
Red Door Antiques Mall

111 Freeway Drive

Mt. Vernon
360-419-0811
Facebook: The Red Door Antique Mall
Largest assortment in Mt. Vernon: home décor, toys, silver, lace, china, silver, jewelry, accessories, rugs, toys
10 am – 5 pm

M_Sat

12 – 4 Sun

15.9 miles (24 minutes)
Dilly Dally Antiques & Collectibles

501 So. 1st St.

Mt. Vernon
360-336-8930
Facebook: Dilly Dally Antiques & Collectibles

2 blocks north of Babe Rainbow

Home décor plus a mixture of other items
10 am – 5 pm

M-Sat

16.1 miles (25 minutes)
Babe Rainbow Antiques

702 South 1st Street

Mt. Vernon
360-899-5447
2 blocks south of Dilly Dally
Quirky assortment of kitchen ware, games, small apparel accessories, books, etc.
11 am – 5:30 pm

T – Sun

15.7 miles (23 minutes)
Primrose Antiques and Gifts at

Christianson's Nursery

15806 Best Road

Mount Vernon

(close to LaConner)

360-466-3821
Facebook: Primrose Antiques & Gifts

https://www.christiansonsnursery.com/antiques-gifts/

Very attractive store set in a large and picturesque nursery. Mostly gifts including good book assortment but with some vintage clothing and other items. Personal favorite of a few WRS members but mostly for the ambience.
9 am – 5 pm

Every day

16.1 miles (30 minutes)
Nasty Jack's Antiques

1031 Morris Street

La Conner
360-466-3209
Facebook: Nasty Jack's Antiques

https://nastyjacksantiques.com/

Furniture, china, prints and plates, records, some toys and games
10 am – 5:30 pm
19.3 miles (32 minutes)
Curious Goods

18573 Main Street

Conway
360-445-2068
Facebook: Curious Goods Antiques
Large store with very large furniture, home goods, some hunting and fishing items and men's clothing
10 am – 5 pm

Daily

21.3 miles (28 minutes)
Ella Bella Vintage Finds & Gray Day Relics

18606 Main St.

Conway
360-310-2264
https://www.graydayrelics.com/

Facebook: Ella Bella Vintage Finds

Features paints, finishes and supplies for refinishing décor or interiors plus some décor items
11 am – 4 pm

F and Sat

21.3 miles (28 minutes)
Note: There are a number of antique/vintage stores in Anacortes. They are at the far west side of the county and are recommended ONLY for another date and time. If you want information about them please contact TulipTea2023@waregency.org.
Home
»
Tulip Tea Additional information 2023