Tea Experience
Posted on November 18, 2014 by WRS in News.

On November 9th our Regency members took a journey through the history of tea!  We discussed tea gardens, how it was most likely green tea thrown into the harbor, and sipped on a wonderful array of teas from around the world. Roberta has a wonderful little shop tucked away in Old Downtown Issaquah off of Front Street. Lunch, because we hadn't had enough tea yet, was enjoyed at Shanghai Garden. We dashed between rain drops (read: down pours) but an elegant time was had by all!

We hope to make an annual outing to Roberta's classes as they were very enjoyable!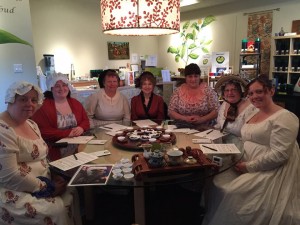 Thank you Roberta of Experience Tea  – 195 Front St N, Issaquah, WA 98027  – (206) 406-9838]